2016 Recipient Morton Blackwell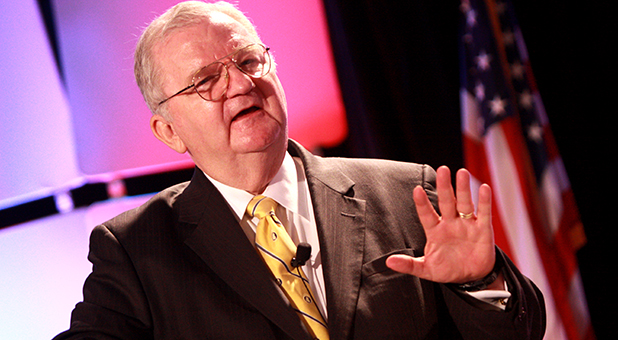 The Heartland Institute is pleased to honor Morton Blackwell, president of the Leadership Institute, with this year's Heartland Liberty Prize. Past recipients of the prize include Gary Becker, Ed Crane, Donald Devine, Richard Epstein, M. Stanton Evans, David Padden, Robert Poole, Robert Rector, Robert Sirico, John Stossel, and Walter Williams.
Morton Blackwell founded the Leadership Institute in 1979 as a nonpartisan educational foundation dedicated to training future leaders of the conservative movement in politics, government, and media. To date, Blackwell has trained more than 175,000 young conservatives through the Arlington, Virginia-based organization, which now has a full-time staff of 75 and an annual budget of $24 million.
Blackwell joined the Young Republicans as a college student in Louisiana, and was Barry Goldwater's youngest elected delegate to the 1964 Republican National Convention in San Francisco. He was also a national convention Alternate Delegate for Ronald Reagan in 1968 and 1976, and a Ronald Reagan Delegate at the 1980 national convention. During the 1980 election, Blackwell organized and oversaw the national youth effort for Ronald Reagan's successful bid for the presidency, and served as Special Assistant to the President on Reagan's White House staff from 1981 to 1984.
Blackwell is something of a specialist in matters relating to the rules of the Republican Party. He served on rules committees of the state Republican parties in Louisiana and in Virginia. He now serves on the Republican National Committee's Standing Committee on Rules, and has attended every meeting of the RNC's Rules Committees since 1972.
Accolades for Morton Blackwell
Joseph Bast
President of The Heartland Institute
"We are thrilled to be able to honor Morton Blackwell with this year's Heartland Liberty Prize. Morton Blackwell is more than an icon in Washington DC conservative and libertarian circles, more even than a highly successful policy entrepreneur. He has trained generations of activists who now work for and often lead virtually all of the most successful think tanks in Washington, DC as well as groups across the country. The freedom movement would be unrecognizable had Morton Blackwell not helped build it in his image.
"The Leadership Institute, which he founded and still directs, is positioned to play this essential role in the movement for generations to come. Heartland staff regularly attend Leadership Institute courses and seminars, and many of our new hires point with pride to their graduation. The Leadership Institute's work will be more important than ever after this year's presidential election, regardless of who wins.
"If you weren't sure you would attend Heartland's anniversary benefit dinner on September 15, this announcement should tip the scales! Come and shake the hand of a true hero of the freedom movement. Stand up alongside 500 fellow conservative and libertarian activists and applaud when he receives this award, for he surely deserves our thanks. And be prepared to listen and to learn when he talks about his road to success and where our nation is headed."
Founder and president of Green Hill Publishers and Jameson Books
"While it has long been Morton's motto that he's 'here to build a movement, not an organization,' his creation of The Leadership Institute has been critical to the success of the conservative movement in the brutal arena of retail politics.
"The Leadership Institute's political training in every aspect of campaigns, from the precinct to the rhetoric of the candidate, has created more winning insurgent political candidates than either national political party. His training of College Republicans, for example, caused the spectacular last-minute upset defeat of powerful Democrat Senator Tom Daschle in 2004 when 500 CR's hit nearly 10,000 South Dakota households during the final two weeks of that campaign with a powerful literature drop.
"Equally important – except when serving as a burr under the saddle of the national Republican Party – Morton is a team player. He helps everyone who asks, when possible. He does not play the zero sum game of knocking other conservative groups for being less-than-perfect. His service on many boards of national conservative organizations has been of significant value to, to name just two, The American Conservative Union and the National Right to Work Committee."
Joe Morris
President of the Lincoln Legal Foundation
"Morton Blackwell has lived a life of public service. From his time as a Young Republican in his birth State of Louisiana, to his leadership now for many years as the senior party's National Committeeman for the Commonwealth of Virginia, he has been a champion of real democracy in American politics. From 1976 in Kansas City until 2016 in Cleveland, he has been a consistent advocate of governing a great national party with fairness and transparency. Even more, he has been a bold voice calling for respect for the rule of law and for taking our Constitution seriously, as a text that binds and conveys meaning to the end of keeping the American people free.
"He served President Reagan and our country in the White House working to advance toward the same goals. Perhaps most important, he has spent the greater part of the last three decades as a teacher, educating thousands of young (and some not-so-young) Americans for citizenship. He has trained them through the Leadership Institute which he founded and still guides. There he teaches how to lead causes and movements, how to build community organizations, how to communicate through all forms of media, how to run for public office at all levels, and how to manage and win campaigns.
"Barack Obama confessed in his memoir, Dreams from My Father, that he was a complete failure as a community organizer in Chicago. Thousands of Blackwell alumni tonight could testify that, by contrast, from coast to coast, Morton Blackwell has successfully molded leaders and organizations that work every day to make our country freer, fairer, safer, and more prosperous. Morton Blackwell teaches people how to accomplish all these things, not through violence, coercion, or deception, but through honorable means of self-improvement, thoughtful engagement, democratic participation, and open persuasion.
"The tools that Morton Blackwell has spent a lifetime wielding in defense of freedom and civilization are reason, learning, and robust debate. For that he deserves the 'lifetime achievement award of the conservative and libertarian movements,' the Heartland Liberty Prize."