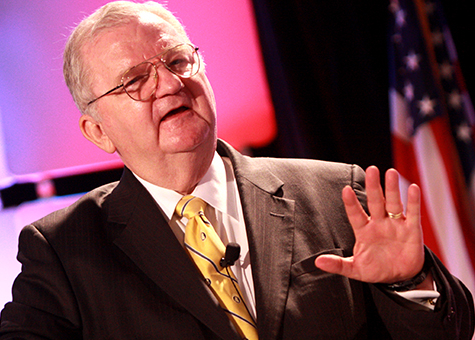 Morton Blackwell
Heartland Liberty Prize Recipient
The Heartland Institute is pleased to honor Morton Blackwell, president of the Leadership Institute, with this year's Heartland Liberty Prize. Past recipients of the prize include Gary Becker, Ed Crane, Donald Devine, Richard Epstein, M. Stanton Evans, David Padden, Robert Poole, Robert Rector, Robert Sirico, John Stossel, and Walter Williams.
Morton Blackwell founded the Leadership Institute in 1979 as a nonpartisan educational foundation dedicated to training future leaders of the conservative movement in politics, government, and media. To date, Blackwell has trained more than 175,000 young conservatives through the Arlington, Virginia-based organization, which now has a full-time staff of 75 and an annual budget of $24 million.
Blackwell joined the Young Republicans as a college student in Louisiana, and was Barry Goldwater's youngest elected delegate to the 1964 Republican National Convention in San Francisco. He was also a national convention Alternate Delegate for Ronald Reagan in 1968 and 1976, and a Ronald Reagan Delegate at the 1980 national convention. During the 1980 election, Blackwell organized and oversaw the national youth effort for Ronald Reagan's successful bid for the presidency, and served as Special Assistant to the President on Reagan's White House staff from 1981 to 1984.
Blackwell is something of a specialist in matters relating to the rules of the Republican Party. He served on rules committees of the state Republican parties in Louisiana and in Virginia. He now serves on the Republican National Committee's Standing Committee on Rules, and has attended every meeting of the RNC's Rules Committees since 1972.